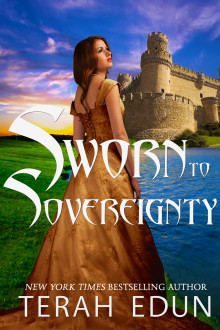 Hello all,
I am thrilled to let you know that Sworn To Sovereignty is now live on all retailers. You should know that we're back in the imperial courts of Sandrin now and massive plans are happening. Rebellion among them. There is also an imperial wedding in the works, so enjoy Book 8 and get ready for the battle to come!
/\/\/\All links above but Kobo is having issues with processing this week so there's a small delay on that retail site./\/\/\
Ciardis Weathervane has one simple rule – win the first fight, then move on to the next. But she's finding out that the citizens of Sandrin have other plans in mind.
When she returns to the imperial capital city, she finds that nothing is as she left it. Only a week has passed and yet chaos reins. Vana Cloudbreaker has been attacked and surprisingly, she did not come out on top.
The woman Ciardis thought was invincible stands a broken shell of what she once was and Ciardis isn't entirely sure what or who was the cause of the fabled assassin's derailment.
To top it off, the revolutionary party is determined to make itself known, starting with a call for an impostor emperor to vacate his throne. They couldn't have chosen a worse time to start their revolution. Right when the noble societies at court are ready to throw their support to the prince heir and princess heir-in-waiting against the blutgott itself.
Now revolutionaries and courtiers are at odds, but even stranger—the duchess of Carne stands among the revolutionary guard. Ciardis is faced with the predicament of saving an empire and sacrificing a revolution, all while facing down a clock that has run out of the time.
The gods are here and there's nothing that she nor anyone else can do to stop them.
———————–
Last but not least, I've pulled Blades Of Magic: Crown Service #1 from Kindle Unlimited and it is now available on ALL retailers, including Barnes & Noble, Kobo, Google Play, and iBooks.
If you've never read the Crown Service series, you're in for a treat. It's set centuries before the start of the Courtlight series and features a warborn protagonist by the name of Sara Fairchild. She is hard where Ciardis sweet, cunning where the Weathervane is trusting, and above all bent on revenge for crown and empire! Links to Crown Service here: teedun.com/crownservice
My next publishing update will be about Blades Of Illusion: Crown Service #2 and the release of Sworn To War: Courtlight #9!