Independent Bookstore Partners:
*Partnership live Summer 2016 – if you've already bought your hardcover email assistant@terahedun.com with your receipt to get overnight swag*
Every reader who orders online or buys in-store a SWORN TO RAISE hardcover from a participating bookstore will automatically receive:
One exclusive Satin Algardis Universe Bag
One Matching Sworn To Raise Bookmark
One Sworn To Raise Sticker Sheet
One Sworn To Raise Vinyl Decal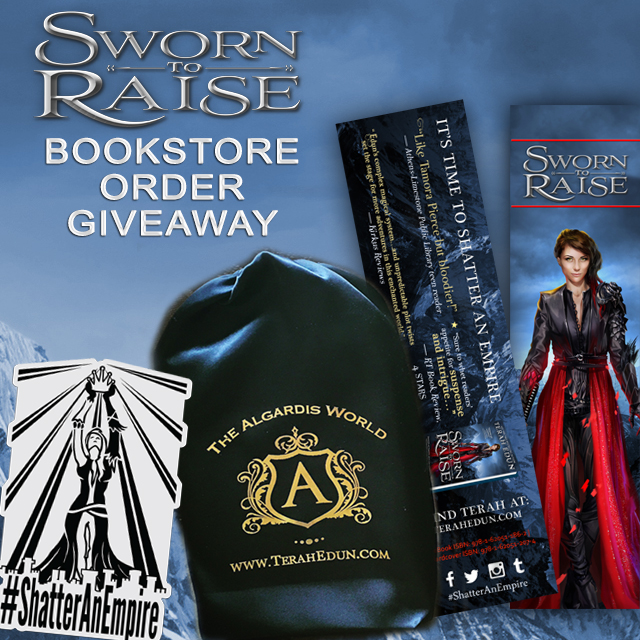 Click on map to see Bookstore Partners:

If you are interested in selling these bestselling young adult titles in your stores, please see the retail ordering information. Please note that Sworn To Raise is distributed direct by Ingram.
Book Trailer Video:
Would you like a Hardcover Review Copy for your store? Email assistant@terahedun.com with your store name, website/location, and the address. We'll get it in the mail with sample swag for your store!
Reviews and RAVES:
★ USA Today Recommended Read ★ Kobo Most-Read Book of 2015
"Edun's complex magical system…and unpredictable plot twists set the stage for more adventures in this enchanted world."
~ Kirkus Reviews
"Intriguing and compelling!"
~ Whitney Waddell, Brentwood Public Librarian
"Teens will find Sworn to Raise a compelling saga of magic, romance, and one young woman's struggle to find and understand her role in her world."
~ Midwest Book Review
"If you're a fantasy lover, this is one world you don't want to miss out on!"
~ City Of Books, #15 Best Reviewer on Goodreads
"Sure to whet readers' appetite for suspense and intrigue…"
~ RT Book Review – 4 Stars
Internet Retail Ordering Information:
Sworn To Raise (Book One) ISBN: 978-1-62051-207-4
Hardcover with Dust Jacket, 5.5 x 8.5 inches
Internet Orders: ipage.ingrambook.com
All orders through Ingram are accorded a 45 Percent Wholesale Discount & a price point that ensures retailers big-and-small can stock their shelves with the Courtlight series.
Non-Electronic Ordering Information:
All booksellers may place orders by phone, fax, or email. Orders submitted electronically are subject to the same terms as phone or fax orders. Customers should provide the Ingram account number, EAN or product code, quantity, and indicate "IPS Order." After posting your order, please contact assistant@terahedun.com to receive the complimentary purchase swag in the mail for your customers – assistant@terahedun.com.
Telephone:  844-749-4858
ACCESS: 800-961-8031
Fax Orders: 800-838-1149
Email: ips@ingramcontent.com
Mailing Address
Ingram Publisher Services, Customer Service
Box 631 14 Ingram Blvd.
La Vergne, TN 37086