I wrote the Courtlight series to be an engaging and engrossing read for all ages with a special interest in young adult readers who wanted to have some adventures of their own. I focused on the type of story that I always loved reading as a young girl, the high fantasy coming of age tale with a female heroine that transcended boundaries, a story with a never-ending saga of twists-and-turns, of new friends and old companions, and most of all—a tale that came from the heart. With its emphasis on friendship that readers of Mercedes Lackey will find familiar, the quests of a Tamora Pierce epic, and the fantasy romance of a Sarah J. Maas novel, the Courtlight series will engage young teen readers like never before.
These books have been included in libraries across the country and around the world.  Teachers will find it to be well-suited for inclusion in the fantasy sections of their classroom collections, book group discussions, and the school libraries.
If you're thinking about adding the Courtlight series to your school catalog or you already have, please email me. I would love to hear from you.

Forty-Five Percent Wholesale Discount For Hardcover Orders Direct From Ingram:

Reviews and RAVES:
"The magic within Edun's world plays along with the message she portrays in her series as a whole, each person (is) unique. This is a wonderful message for the younger readers during a time when they are discovering who they are, telling them that they have a unique talent that they will discover they have."
~ Chicago Books Examiner

~"Edun's complex magical system…and unpredictable plot twists set the stage for more adventures in this enchanted world."
~ Kirkus Reviews
"Intriguing and compelling!"
~ Whitney Waddell, Brentwood Public Librarian
"Teens will find Sworn to Raise a compelling saga of magic, romance, and one young woman's struggle to find and understand her role in her world."
~ Midwest Book Review
"If you're a fantasy lover, this is one world you don't want to miss out on!"
~ City Of Books, #15 Best Reviewer on Goodreads
"Sure to whet readers' appetite for suspense and intrigue…"
~ RT Book Review – 4 Stars
"The magic in this fascinating fantasy world is intriguing, and I look forward to more adventure, suspense and romance!"
~ Leslie Jackson, Youth Services, Woodland Park Public Library
"Like Tamora Pierce, but bloodier."
~ Athens-Limestone Public Library teen reader
"(Well-crafted) middle grade fantasy…"
~ Publisher's Weekly, BookLife Prize for Fiction


Order a HARDCOVER copy for your classroom or school library collection from:




What kind of print books are available?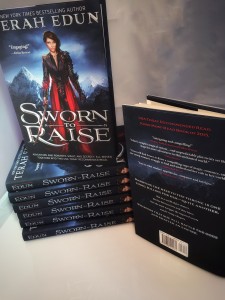 Purchase a DIGITAL copy for your classroom or school library collection today via OverDrive:
Other DIGITAL vendors:
3M Cloud Library | Ingram | EBSCO Ebooks

Start a BOOK GROUP in your school:
Would you like a limited edition package of signed hardbacks and beautiful swag for your local reader's club or after-school session? Email Rachel @ assistant@teraehdun.com for details on the new pack-and-ship program we're offering which will send you signed hardbacks, bookmarks, buttons, and discussion guides in one package.