Update: Here are the links to Blades Of Magic: Crown Service #1 – AMAZON BARNES & NOBLE KOBO IBOOKS GOOGLE PLAY
Hi all,
With delight I can finally write these words – BLADES OF ILLUSION IS LIVE! I've been waiting since October 2014 to come back with a new, fresh saga for Sara Fairchild's life. Happy to say that this winter of writing has been a success and she is now on the page for you to read with more blood, more battles, and more fight in her than ever.
If you are NEW to the Crown Service series, well you're in for a treat. These books are set in the same Algardis Universe as Sworn To Raise but take place 300 years in the past, when the entire empire was torn apart by a war between mages and the crown.
In this epic adventure, Sara Fairchild is fighting to clear her father's name of treason and struggling to do her duty by her empire. She believes in loyalty to her family and to her empire, but when those loyalties are conflicting – which will rise above all?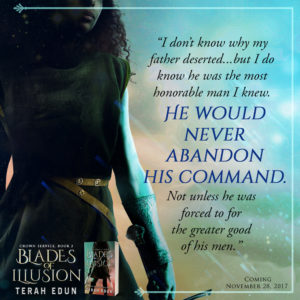 I hope you enjoy this new chapter in the Crown Service saga and to the readers who've contacted me eager to be the first to jump back into Sara's world I hear you. As this is a re-launch of the second book in the Crown Service series, I know there are questions. First all, Blades of Magic: Crown Service #1 has gotten new cover art but the content of the book has not changed. However Blades of Illusion: Crown Service #2 has been completely re-written with new content, new characters, new destinations, and new cover art. You won't be able to update the original version of Book 2, so you can choose to delete it or hold on it to but the new version is a completely re-written book which took months to write.
Before you click that buy button, I want you to read what I have in store for you. Here are the FIRST FIVE CHAPTERS of the brand-new Blades of Illusion: Crown Service #2.
To receive your new book you will go as normally to Amazon, iBooks, Google Play, Barnes & Noble, and Kobo. As an incentive the book will be the same price as Blades of Magic, $2.99 (or the international equivalent), through December 2017. If you have any questions, reach out to Rachel Westra @ assistant@terahedun.com.